AAHA Accredited
The American Animal Hospital Association (AAHA) is a non-profit group that helps vets in the US and Canada get certified.
To become AAHA-accredited, our animal hospital has had to pass a lot of tests to make sure they meet the more than 900 AAHA Standards of Accreditation. Among them are standards for hospital safety; patient care; diagnostics; pain management; contagious disease management; continuing education; dentistry; emergency/urgent care; and many other things.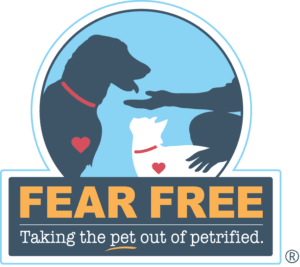 Fear-Free Certified
MetroWest Veterinary Clinic is proud to have staff members that are Fear-Free Certified. Being Fear Free aims to reduce fear, anxiety and stress in our patients to create a better visit and a healthier pet.
Fear-Free certifications for our staff include understanding and knowing how to respond to and address signs of stress in pets, helping clients plan ahead for lower-stress appointments, creating a calm environment in our hospital, and more.